PRODUCTS
White Candle
Candle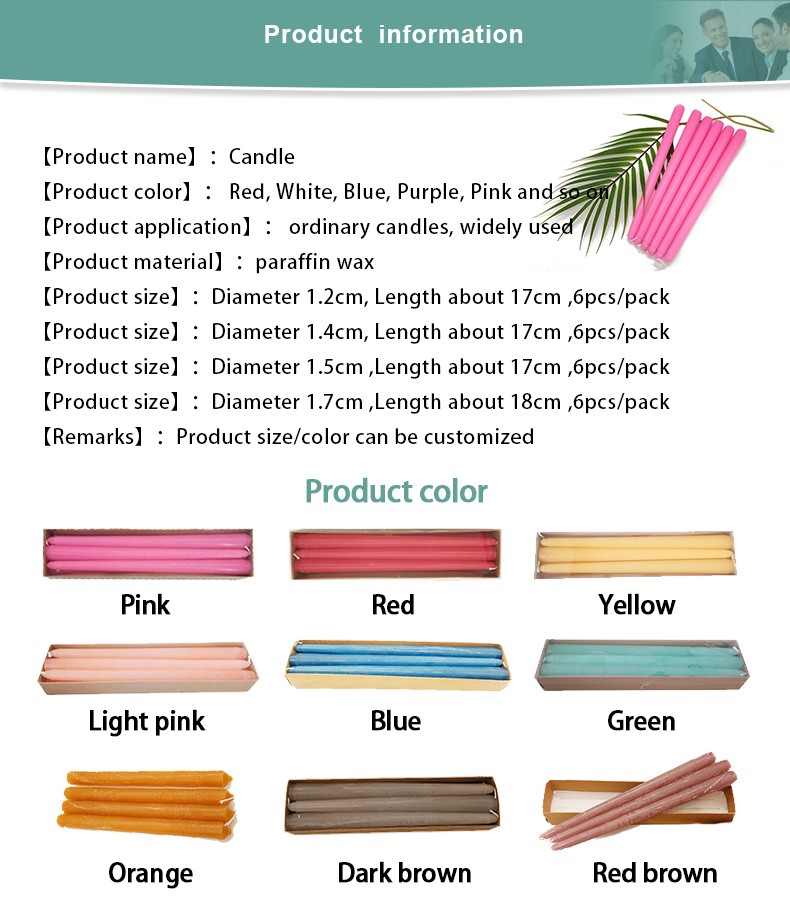 Product name

Candle  / Tea wax     /Column wax

Product color

Pink,Red ,Yellow    , Light pink , Blue ,Green ,Orange ,
     Dark brown , Red    brown

Application

ordinary    candles, widely used

Material

paraffin    wax

Product size

Candle:1.2*17cm/1.4*17cm/1.5*17cm/1.7*18cm    6Pillar/box
     Tea wax:3、5、8 Hour Burn Time,50 Pack, 50 Count
     Column wax:OEM
     Accept    customization

Packing

carton/Wooden    case

specification

6pcs/pack

Product size/color can be    customized.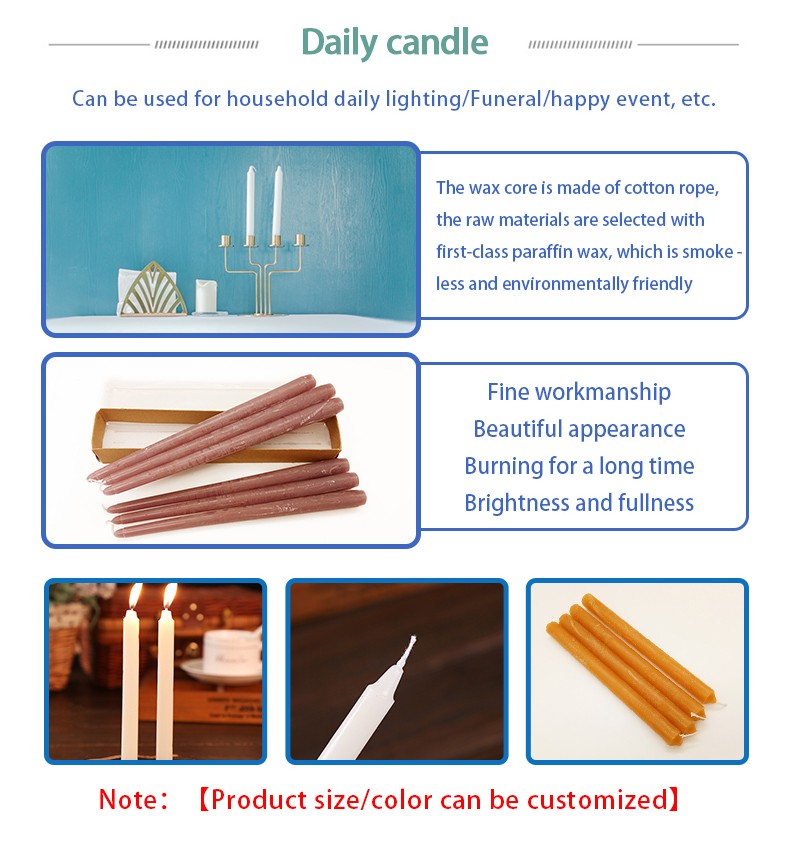 The wax core is made of cotton rope,  the raw materials are selected with first-class paraffin wax, which is smokeless and environmentally friendly.Fine workmanship, beautiful appearance, burning for a long time,brightness and fullness.
Note: Product size/color can be customized.
The Candle can be used for household daily lighting / candlelight dinner / PARTY / proposal atmosphere creation, etc.
How to use
First open the package, trim the wick wire to 1cm, and then light the wick wire with a flare gun. When you need to extinguish the candle, it is recommended to use a small wooden strip, tweezers or toothpicks to gently press the burning lamp wire from the lower part of the wick into the wax water. After the flame is extinguished, correct it from the lower part of the wick, which is convenient for the next time to light , it can prevent smoke from being blown out of the mouth and protect the service life of the wick.
Instructions for use
Avoid leaving unattended for a long time when burning, it is recommended to use a candle extinguisher to extinguish the fire sprout without smoke, and it is recommended to store in a ventilated and dry place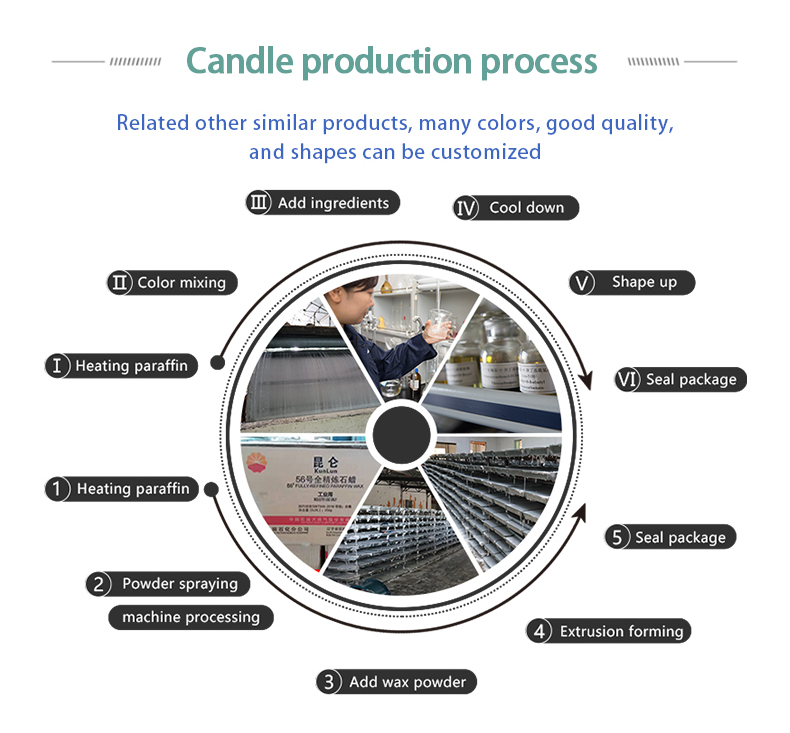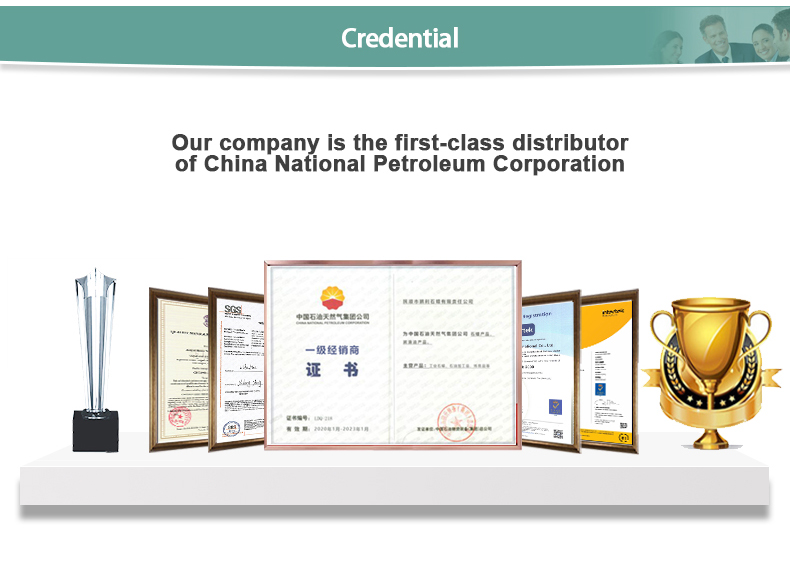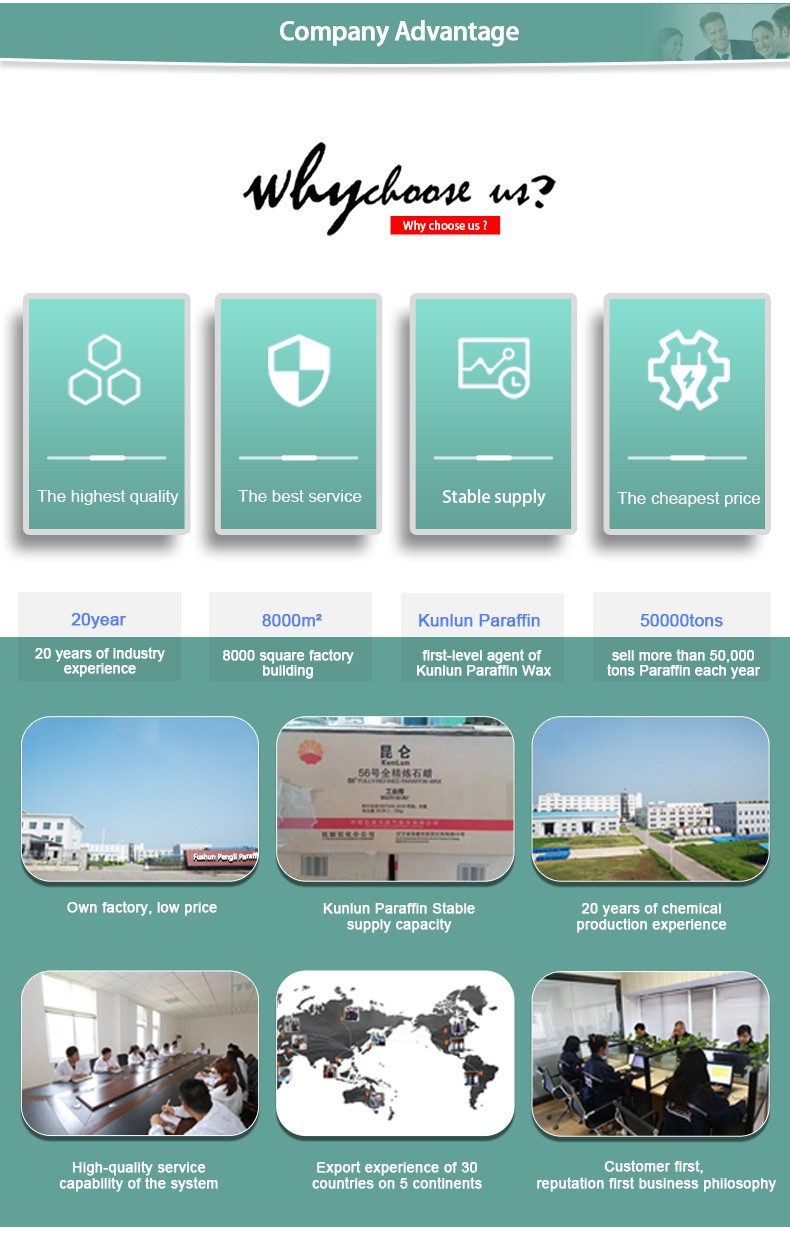 Pengli Industrial Development Co., Ltd. was established in 2000 and is a group company integrating production and trade. The company's main products include paraffin wax, palm wax, stearic acid, candles and lubricants, with annual sales of more than 30 million US dollars. We have our own factory, producing our own brand of paraffin wax, candles and lubricants, and we also provide OEM services. We are also the first-level agent of Kunlun Paraffin Wax, with the best price and priority purchase rights, and we sell more than 30,000 tons of Kunlun Paraffin each year. Our lubricating oil factory has strong technical strength and can make special lubricants for you according to your needs. At the same time, we have the ability to produce a variety of military lubricants. We have been engaged in candle production for 15 years. With excellent quality and exquisite design, we can produce almost all kinds of candles and provide customized services.
Our corporate tenet is "creating value for customers", and our core values are "struggle-based, quality-oriented, customer first, and win-win together"